In the 1960s our grandparents couldn't create a side hustle when they were sitting in bed late at night, let alone make money from home.
There was no internet and the concept of sitting on the couch for any duration longer than 60 minutes deemed you as lazy (back then).
However, fast forward to today and there are countless and legitimate ways to make money online while sitting at home enjoying the comfort of your living room couch… and not being called lazy!
One of the greatest factors that has helped my wife and I pay off $200,000 in student loan debt has been the emphasis we placed on figuring out how to make extra money outside of our 9-5 careers.
But the key to accomplishing your financial goals doesn't solely rest on your ability to cut out the lattes and all the impulse spending…
No, it boils down to your ability to make extra income to expedite the process of hitting your financial goals!
This is why I put together this list of real ways to make money from home – most of which I have personally used!
Need a Side Hustle?
Get a free copy of my
Side Hustle Guide here
and learn how to start making money on the side using these proven steps!
15+ Real Ways to Make Money From Home
Here are just a few ideas to help you get started! Pick a few and bookmark this article to come to later to find more ideas to make more money!
>> See Also:
1. Paid Surveys & Market Research
This is pretty straightforward, but you can make money conducting market research with survey companies from an app on your phone.
You are not going to get rich, but next time you're sitting on the couch watching your favorite show, why not take a few surveys to offset your TV watching with some earning?
The most common survey companies include:
>> Read a Full Review: The 12 Best Survey Sites
---
Survey Junkie
My personal favorite is Survey Junkie! When you sign up with Survey Junkie you can earn $10 just for getting started.
From there, you can earn any where from a few dollars upwards to $50 per week depending on the surveys you complete for market research!
---
Swagbucks
You cannot go wrong with Swagbucks! As one of the premeir survey sites out there, Swagbucks is known for it's credibility and repuatation!
You earn "Swagbucks" or "SB" each time you complete surveys. 1 SB point is about 1 penny. So when you earn a 1,000 SB, you now have $10 and you can cash out with PayPal!
You can get $5 simply for signing up!
---
Kashkick
Kashkick is a new survey company that lets users "Cash In" and make money from home when they complete surveys, watch their favorite shows, conduct market research, and download new apps!
They're partnered with market research companies like Nielsen and other popular survey websites, but everything can be done through just one app!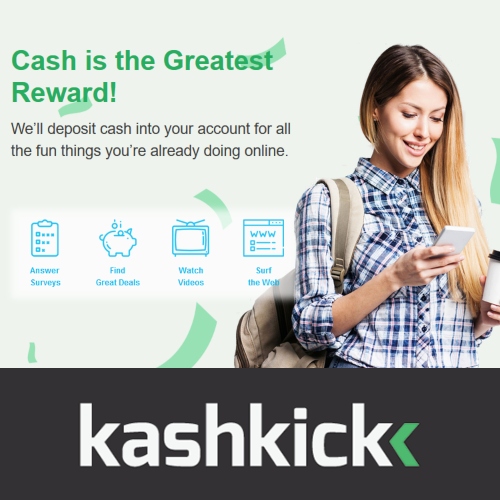 2. Start a Digital Marketing Company
In addition to Money Life Wax, I also manage a Digital Marketing Company that helps me make upwards of $1,000 per month or more. I work with a limited amount of clients helping their small businesses stay relevant online offering SEO consulting & content management.
Typical digital marketing services can include:
Website design
Website management
SEO work & consulting
Social media growth
Simple graphic design
Copywriting
Email newsletters
Google management
Facebook & Google Advertisements
Basically everything I do for the money Life Wax blog – SEO, Content, Social Media, & Design – I do for other companies.
If you have expertise in the realm of website design, management, content marketing you may be able to create some extra income with a few spare hours a week.
Like the idea of Digital Marketing?
Here is a tip if this sounds like something you are interested in –
start a blog
to get your feet wet and learn the ropes. Like everything, there is a learning curve involved however this is my go-to way of making money from home!
3. Offer Free Lance Services
Can you offer free lance services such as photography, graphic design, writing, and editing?
If so, you can make some great income outside of your 9-5 and from your computer. When it comes to figuring out the best ways to make money from home, offering freelance services might be your best option!
Whether you're just looking to make a little extra here and there, or you're hoping to quit your day job, writing articles, editing copy and creating graphics are all in high demand in the digital world!
To find freelance gigs you can:
Checkout Fiverr and sell your services there
Visit Upwork and offer your freelance services
Join local business networks in your community
Jump into Facebook Groups and Twitter Niches
Freelancing Note: I have hired over 5 virtual assistants and freelancers over the last two years that I met all on Twitter or Facebook Groups. If you're looking to land freelance work, start there!
4. Offer Social Media Management Services
Got a friend who's sick of managing their companies social media accounts?
Just see if you can help them and ask them for $250-500 a month to respond to comments, automate posts, and grow their social media followings. Right now small business owners are looking to unload tasks and this includes managing their:
Instagram accounts
Facebook pages
Pinterest and/or Twitter
Managing social media accounts for business owners who don't have time to mess with their Instagram or Facebook is a great way to make money from home and your phone!
And if you like working alone, this is a great way to work alone but also interact with others too!
5. Graphic Design.
While graphic design requires some background knowledge and experience – if you have the ability to create custom designs/graphics for business owners you can make some serious income!
Similar to #3 above -Freelancing – graphic design is in a category of it's own because of the high demand. Companies and brands are constantly in search of logos and graphics for their content.
Here are a few tips to help you get hired as a graphic designer from home:
Start a small e-commerce site.
Become a freelancer on Fiverr where people can hire you for your services.
Visit local schools and sports apparel companies (they're always in search of designers)
Always have an online sample portfolio ready and look into helping small businesses that have outdated logos!
6. Start an Etsy Shop.
Can you make stuff at home but have no clue how or where to sell it?
Look no further then Etsy.com.
Etsy allows people to take hobbies and turn them into some serious side income, all from home. From jewelry and home goods to clothes and shoes, you can sell just about anything you make on Etsy.
Whether you like making soap or candles at home, or you can sell your printables to other teachers, Etsy is a great platform to sell your homemade products and make money from home!
Start your business with Etsy here!
7. Start a website and monetize it!
For as little as $2.95 a month you can start a website through Bluehost & Wordpress.org that allows you to create secondary income from the comfort of your home.
Depending on your expertise, you can offer a variety of services like digital marketing (#2), e-commerce options and drop shipping, First, start by figuring out what service can you provide?
Can you scale it online?
Can you take 5-6 hours a week do mess around with your website until you learn?
Growing a website and selling services is not an overnight success, but can lead to many different opportunities. You can monetize your website several ways including:
Selling services or products
Paid sponsorships
Placing ads on your website
Selling leads
Typically, the most common way to get started is to use the steps below and start a blog!
8. Finally start that Blog!
Huffington Post, is a multi-million dollar blog that has gained a reuptation the supercedes itself! And while you don't need to be the next Ariana Huffington, blogging can make you a few hundred dollars a month all the way to a few $1,000 each month!
In order to start a blog, first make sure you have a topic you like talking about and just start writing. While there are certainly plenty of blogging pitfalls to avoid, at the end of the day social media has made it simple to find the resources you need to start a profitable blog!
For an upfront cost of about $120 you can have your hosting, domain name, and the Wordpress platform for 3 years using my favorite starter hosting!
My biggest tip – just do it! Don't think you have to conduct massive amounts of research or be an expert. You become an expert in anything by try, fail, and adjusting over and over again!
Considering starting a blog?:
You can learn how to start a blog step by step using
this guide!
It's how I got my start making a $1,000+ extra per month!
9. Handyman? Become a Tasker
Are you a handyman or handywoman? If so, you might be able to make some money on the side of your day job by fixing other people's stuff!
For starters, if you have never heard of Task Rabbit, it's a way to find jobs as a handyman. While technically this is a great way to make money, some of the work might require you to do it away from your home, but it is flexible.
If you're only looking to make money from home, another idea is to make a YouTube video of you fixing things and post it online! When you hit 1,000 subscribers on your YouTube channel you can monetize your channel with ads!
10. Tutoring & Online Teaching From Home
Did you know you can teach students in other countries and earn $14-22 per hour?
With tutoring companies like VIPKid and Wyzant you can teach around your schedule and have both the curriculum and courses laid out for you.
There are some minimal tech and background requirements, but the kids are really pleasant and oftentimes hard working. This is great for former teachers who are now staying at home moms looking for real ways to make money from home!
One review on VIPKid's website:
This year I taught with VIPKid, and it has been amazing! I get to teach, but I don't spend hours planning. The curriculum has an engaging scope…!
If you're serious about the online tutoring, you can read a full review of the 7 Best Online Tutoring Websites here!
11. Fantasy Sports & Online Gambling.
Yes, believe it or not, the Fanduels and poker players of the world make money from home, while on their couch. I am not saying that this is a great approach to win real money for all, but in some cases, it is legitimate for those who know what they're doing!
Online betting has recently blown up and has no intention of slowing down. By no means should this be something you do unless you have some talent and don't mind the risk, but some people have hit it big!
Pretty Cool Side story – A kid I grew up next to for a few years is actually a professional poker player and started playing online. He was at one point sponsored by Bodog and he has a WSOP bracelet and is a top income earner according to this.
12. Create an Amazon Fulfillment Business to Make Money From Home:
Here is a recent update for legitimate ways to make money online: Use an Amazon FBA business to make money online.
FBA is short for Fulfillment By Amazon and in the article below, you can learn how to start an online FBA business and starting making money!
13. Become a Virtual Assistant
I have paid virtual assistants to help manage my social media accounts, post graphics on my news feeds, write, edit and simply help me stay organized!
For stay at home moms or college students with great organization skills, an online virtual assistant is a great way to make money from home! Typically, a virtual assitant must possess:
Communication skills
Efficiency
Interpersonal skills
A solid understanding of all-things-internet
The aforementioned, Organizational skills!
Virtual assistants can make anywhere from $15-$30 and hour and it is one of the most legitimate ways to make money from home on your own time!
Whether you can manage social media accounts, help business owners stay organized, perform every day customer service operations, and you're really good at email – than consider becoming a virtual assistant!
Pick a service your best at, reach out to small business owners you know and let them know of your services or visit websites like Flexjobs to find work from home jobs!
14. Sell things online & Flip items!
When it comes to spring cleaning, you can make some money with all that old stuff in your basement or garage!
Simply take all your unwanted things and visit websites like Facebook Marketplace, eBay and Offer Up to sell your unwanted items! If you get serious and want to really make some money, consider checking out Flea Market Flipper below…
Checkout the Flea Market Flipper Webinar where this stay at home (hustling) couple teaches you how to:
Find the right items to sell online
What the best items are for selling
And how to run a lucrative side hustle selling online with eBay
15. Offer Virtual Accounting
Accounting doesn't require the same brick and mortar confinements that it did back in the day! You can now offer your accounting services – for taxes or every day bookkeeping – to business owners from the comfort of your own home!
While accounting is not something just anyone can do, if you have a background in accounting and want to work from home and make money, consider starting your own book keeping business!
What you need to know about making money online.
Forty years ago, work was harder, most jobs were blue-collar in nature and at the end of the day, your education level had a significant impact on your ability to earn.
Fast forward to today, and there are 14-year-old kids on YouTube who make more money in a day then our grandparents did all year.
Making money online is 100% a game-changer. It has never been simpler (Don't confuse with easier) to make money outside of your full time job or from the comfort of your own bed.
You still have to work for it and it isn't like a computer with internet access is a magical money-making machine… but in the same sense – it actually is when used correctly!
Pros to making money online:
The cool thing about making money online – you control when you do it.
You can learn how to do it with no experience (I made $5,300 my first year blogging)
Can create passive income using online platforms
Not tied down to one specific geographic location
You can wear whatever you want and sit on your couch! 🙂
Personally, I have sold things from the garage, picked up extra shifts here and there, and even rented the spare room in our home to help offset expenses and earn some real money.
There are countless side hustle ideas out there that you can use to earn money. In fact, many people have even been able to turn their side hustle into a career, which is why I highly recommend simply just trying a few to see what you like!
Final Take on Making Money Online:
At the end of the day I covet time more than money. So I am thankful for the internet every day.
Now, you (me, anyone) can literally start a company or website sitting in our bed… in our underwear… next to our dog…with \our spouse all while watching TV!
But just because it's EASY to start, doesn't mean making money online is EASY. Don't confuse simple with easy. You still need to work hard to earn money online especially when it comes to scaling
However, unlike a part-time job that requires our time to be at a specific geographic location, some of the above-mentioned legitimate ways to make money online can be done while you have some downtime at work or you're stuck on the metro.
Or even better – when you're quarantined during the Coronavirus Pandemic!
Regardless, if you have a rainy Sunday to kill, instead of wasting the day you now have a list of real ways to make money online! No matter how you leverage the internet to make money, it's awesome to know you can be making online relatively quickly!
Q: What ways to make money online do you use? Comment here.
Josh writes about ways to make money, pay off debt, and improve yourself. After paying off $300,000 in student loans with his wife in less than five years, Josh started Money Life Wax and has been featured on Forbes, Business Insider, Huffington Post, and more! In addition to being a life-long entrepreneur, Josh and his wife enjoy spending time with their chocolate lab named Morgan, working out, being outside, traveling, and helping others with their finances! I got serious with money when I used Personal Capital to track my finances.