For many, the start of a new year marks a time when we often set goals for ourselves in the realm of health, money, and happiness. Financially speaking, we set high goals to save more money, pay off our debt faster, and figure out how to get ahead.
The key to any financial goal is more money. Earning more income will make reaching your financial goals easier. And perhaps the most tried and true way to making more money is landing a part-time job.
Today, we will explore the pros and cons of a part-time job, what we think are the best part-time jobs, and how to go about landing some extra money in the process.
Pros & Cons of Part Time Jobs
Before we divulge our list of the best part-time jobs, keep in mind the benefits that part-time jobs offer as you read. Be sure to see which jobs best fit your current lifestyle in order to make the right choice.
For example, perhaps you sit behind a computer all day in your 9-5 and you would much prefer being around the hustle and bustle of other people. In that case, catering or product promotion might be your thing.
Here is a quick list of the pros and cons of part-time jobs:
Pros to Part Time Jobs
More money for your goals, spending.
Part-time jobs are typically flexible
Don't require as much mental capacity as say an engineering job might
Some offer benefits like health insurance at better rates for employees
Can be purposeful, like coaching or youth involvement
Part time jobs can be fun, like catering, when you interact with others!
Cons TO PART TIME JOBS
You spend your free time working
Sometimes a part-time job can morph into a full time "like" workload
You won't make as much money working by the hour
Can be hectic managing a part time job with other responsibilities
Can impact your tax situation in some cases
Less time to do the things you enjoy
Working on the side might create a short term mindset
Regardless of why you might need a part-time job, let's dive in and explore the best options!
The 16 Best Part Time Jobs for 2022
Need some extra money fast?
1. Work as a Fitness Instructor
If you're interested in keeping fit and making some extra buck at the same time, becoming a fitness instructor may be the way to go.
A fitness instructor could be anyone who teaches classes like yoga, body pump, or pilates, to a full-on personal trainer. Teaching fitness and health great way to take classes for free all while making a pretty decent amount of money per hour.
The average pay is around $18/hour and the flexibility means it's easier to manage other commitments.
Not only is fitness coaching and teaching a great side job, other benefits include:
A discounted or free gym membership to that same gym.
Getting in shape while you work
Get to add value to other people's lives
Although you may not start with great pay, experience on the job means a pay raise every year. You might also get the opportunity to complete certifications and CPR training for free.
Interested? Here is how to become a part-time fitness instructor:
Become a group fitness instructor
Visit your local gym and ask about spin, yoga or pilates training and requirements for becoming an instructor!
Look online for steps for becoming a personal trainer
---
2. Dog Walker
An incredibly fulfilling job: taking care of other people's pets.
As a dog walker or someone who checks in on pets, you can make pretty good money at $15 per hour! As a sitter, you could make up to $40 per day, and even more if you stay for the night.
The hours are pretty flexible since you get to choose when you want to work, as well as the dogs you want to spend time with. While this isn't a work-from-home job, it is something that you can choose when and when not to do!
Some companies that help you get started with dog walking are:
PetBacker,
Rover, and
Care
---
3. Delivery Driver (Deliver People or Food)
If you enjoy driving and have a car, why not become a delivery driver? You can deliver people or food 🙂
You have control over your schedule and can make money from an app – which is pretty cool when you think of how we made money 20 years ago!
While there are plenty of pros (working on your own, flexibility, quick money, operating on a 1099 status) and cons (wear and tear on your car, wages can vary, you have to work hard to make good money) to using your car to make money in the gig economy – apps make your life easier.
Apps that are ideal for driving people around include:
If you're not into driving other people around, there are apps that are ideal for delivering food which includes:
If you think delivering food might be your meal ticket (pun intended), here is a list of the best food delivery apps to make money!
---
4. Grocery Shopper Part-time
Yes, you can get paid to buy and deliver other people's groceries – and make a pretty sweet $25 per hour doing so!
Who would have thought there would be a market for delivering people their groceries as a part time job? But sure enough in 2020, that is the case!
Make sure you keep into account your gas, taxes, and insurance when you set your prices. To get started with a part time job delivering groceries or shopping, check out companies such as:
Postmates,
Instacart,
Peapod, and
Favor.
While these jobs are not home based, they're legitimate options for someone looking for a part-time job that offers flexibility and quick money!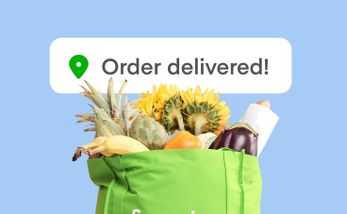 ---
5. Personal Trainer
Like a fitness instructor, a personal trainer gets to work with people of all ages all while keeping fit.
If you're working a 9-5 job, becoming a personal trainer is an ideal part-time job that helps you get out of the chair and keeps you moving and interacting with others. Not to mention, you train on your time and most of your clients work too!
When starting out, you'll be working in a gym to help build up your list of clients. This can range anywhere from $8 to $15 per hour. Once you build a list of clients, you may consider starting your own company and training your clients wherever you choose to and at the rate you want.
You can get your personal trainer certs with NASM online and start training in a matter of weeks or months!
Some trainers have made personal training a legitimate work-from-home opportunity for themselves by training clients over Zoom, offering online programs, and even starting their own training websites!
>> See Also, 41 Ways to Make Extra Money Fast
---
6. Promotion & Marketing Specialist
If you've worked in marketing before, becoming a brand promoter or marketing specialist may be the best part-time job for you.Y
You can work on marketing platforms, create campaigns, and help businesses with their marketing. You can also help small businesses by finding influencers who would want to promote their brand and focus on the right niches.
Marketing gigs on the side typically require you to spend nights and weekends doing so, but becoming a brand rep for products can pay well! Red Bull is infamous for its brand reps!
---
7. Catering
Most caterer's make upwards of $25 per hour, plus tips! Sound like something you would be interested in?
From mid-March all the way to the New Year, caterers are in high demand, especially on the weekend. Whether it is for a wedding, a retirement, or corporate get togethers, caterers stay busy when they're working their part time job!
However, if you choose to work as a caterer, you can walk away with $250+ per event. Do that four times a month and you have an extra $1,000!
To beomce a caterer, simply do the following:
Search for catering companies near you
Ask friends with bartending or catering experience
Contact large wedding venues near you and ask if they're hiring!
---
Alternatives to 'Normal' Part-Time Jobs
8. Manage Social Media Accounts
If you enjoy marketing and have a good feel for social media, this is a good alternative part-time job. Charge your clients a monthly fee in exchange for managing their social media such as LinkedIn, Twitter, and Facebook. You could even go to the next step and set up a team with a graphic designer and a writer to manage the company's entire branding.
---
9. Start a Blog
If you have an amazing hobby that you feel you can't monetize, consider blogging about it. If other people enjoy reading it, you could make some good money through display advertising and affiliate links. It's also a great way to build up your own personal brand and turn the blog into a portfolio for other opportunities.
Considering starting a blog?:
You can learn how to start a blog step by step using
this guide!
It's how I got my start making a $1,000+ extra per month!
---
10. Get Your Real Estate License
Becoming a real estate agent is a great way to get into the real estate industry all while earning money. Get a license and start looking for deals to sell properties to others.
Getting licensed costs anything ranging from $1,500 to $2,000 and you do need to pay an annual fee to a board of realtors – so make sure to keep this all into account if you're interested in getting into this space.
>> How to Become a Real Estate Agent Step by Step
---
11. Tutor & Teach English Online
Teaching English can be done from the comfort of your home, on your own schedule, and without a degree!
There are many programs and apps out there that hire native English speakers to teach English to children in Asia or other countries. Additionally, some of the best online tutoring platforms are paying $20+ per hour to those with a degree.
Some online platforms that offer online tutoring include:
VIPKid,
QKids,
Cambly and
iTalki.
---
12. Become a Virtual Assistant
If you've got a thing for admin work and like organizing and managing emails, being a virtual assistant could be the side hustle for you. You'd basically be a personal assistant that helps businesses or individuals manage several tasks online.
As more and more people have their own website, more people need assistants to help with daily tasks, social media, and overall website management.
Some VAs make a decent $50 per hour, and starting out it is a pretty good job that pays $20 an hour without a degree.
---
13. Freelance Work
If you've got certain skills that you feel could find you, direct clients, why not try getting paid directly? If it's something you can do in front of a computer, such as writing or design work, this is a very handy and flexible part-time job to have.
Test out which skills you think people would pay for and start building a portfolio. Check out platforms like Upwork and Fiverr to start working on real projects.
Freelance ideas for part-time jobs include:
Freelance editing
Freelance graphic design
Freelance consulting
Freelance digital marketing
Freelance web design
Freelance SEO consulting (my go to)
Courses or places to learn how to become a freelancer who does well include:
---
14. Data Entry Part Time Jobs At Home:
Data entry jobs are really popular right now because they are super flexible.
Stay at home moms can do them, people who need money on the side or someone who wants to work from home are ideal candidates for data entry jobs.
As a legitimate work-from-home job, data entry jobs are a dime a dozen. Simply search for "Best Data Entry Jobs At Home" and look at Glassdoor or Ziprecruiter.
15. House Cleaner & House Cleaning Business
Whether you clean houses on the side of your full-time gig, or you start your own house cleaning business – cleaning is a great way to make an extra $100, $500, or even $1,000+ per month!
The going rate to clean a house is at least $100 and depending on the size, even more! Most of the time you can clean a normal-sized home in just a few hours, making it a very lucrative part time gig! House cleaning, and #16 below – landscaping – are two of the best part time job ideas out there! Why?!
Because with house cleaning you can turn it into a scalable business venture as you progress!
---
16. Start a Landscaping Company
Landscaping is a great way to make extra money and enjoy the sun while doing so. For the majority of my life, I have made money cutting grass, trimming shrubs, planting trees, and mulching for people on the side.
This was made possible by my flexible teaching schedule and all the years working in the yard with my mom. In a matter of hours, you can make some good money on the side landscaping. For the full details, I list exactly how to go about creating a landscaping gig here.
If starting a company doesn't suit your fancy and you're like me and you are a teacher, you can always work at a golf course in the summer or check out another teacher side hustle.
---
Other Ideas for Part-Time Jobs
Depending on your goal, whether you looking for part-time work for the flexibility or just the extra money, there are some alternative ways to help with the latter!
Ask a Friend
If you've got a friend or a family member that needs help with something, consider offering them a service in exchange for payment.
This could be anything from designing their website, to writing some content to doing some babysitting or coaching. Most of us
Work Overtime
If your job pays extra for overtime, why not try it put in some extra hours? Overtime can offer extra opportunities on top of extra money: interesting projects, different clients and even getting to know your coworkers better. Yes, overtime isn't considered something we want to do, but if the hourly pay is great and you enjoy what you do, why not?
Get on A Budget!
Getting on a budget will help you identify where you can cut costs to save money – which in turn is money you could use for something else. Set up monthly budget meetings with your family to track expenses of the past month, make a plan for the future and see what needs to be changed to save some money.
Final Word on Part-Time Jobs
The other day I did a quick search on the best part time jobs and the common searches that accompanied it included:
Jobs at Home, Best work, Inbound, Virtual assistants, Typing Jobs, Independent contractor jobs, Legitimate work from home jobs, Data entry jobs, and stay at home jobs.
I can honestly say I have never worked a part-time job since I landed my career as a teacher – as far as clocking in and out goes, but I also did not have any of the above options.
In 2010, the only option was to either work hourly or work at a restaurant. But side hustle ideas are unlimited these days.
However, I have hustled and worked for family businesses, my own personal side hustles, and teaching summer school. So in a sense – I was working a part time job.
Regardless, it's important to keep in mind that the point of a part-time job is to hold it temporarily or because you love doing it (like fitness or youth stuff).
The last thing you want to do is get a part time job and spend more money, so be sure that with your part time job you:
Budget accordingly
Use it for your future by investing or paying off debt!
Q: What do you think is the best part-time job? Let us know below!
Josh writes about ways to make money, pay off debt, and improve yourself. After paying off $300,000 in student loans with his wife in less than five years, Josh started Money Life Wax and has been featured on Forbes, Business Insider, Huffington Post, and many more! In addition to being a life-long entrepreneur, Josh and his wife enjoy spending time with their newborn son, their chocolate lab named Morgan, working out, being outside, traveling, and helping others with their finances! In case you were wondering, Josh uses Personal Capital to track his net worth and his first investment account ever was an Acorns account 😎